07/19/2016 / By chemtrails
---
There is an interesting story in Thursday's Inquirer about a South Jersey billboard warning passersby about the dangers of chemtrails which, some of you already know, just happen to be a social-media fixation* of mine. I thank the wide swath of woke friends who brought it to my attention.
(Article by Brian Hickey)
"LOOK UP Your Weather is Engineered" reads the ClearChannel billboard located in Woodstown, Salem County, directing people to check out the websitebyebyeBLUEsky.com.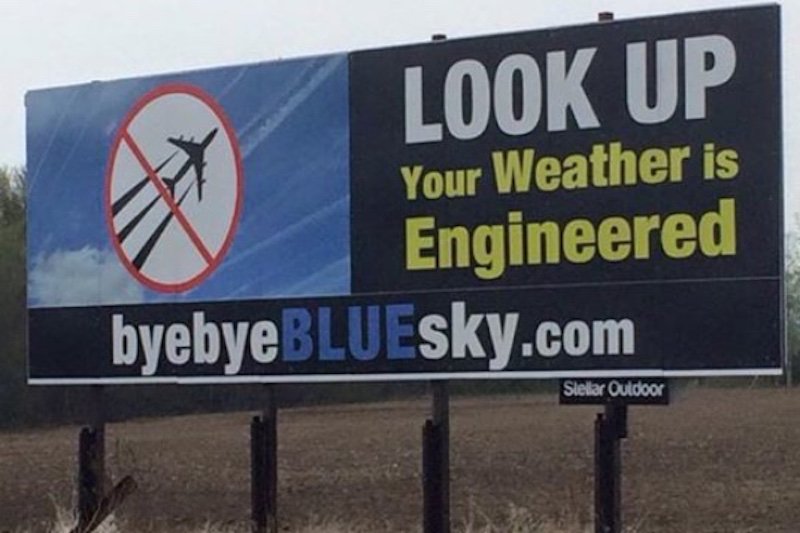 Per its mission statement, BBBS "is a dedicated global public environmental movement who seeks to be a voice for all living creatures and ecosystems, to protect human health and safeguard the natural environment, air, water, land and which our sustenance depends.
"We use education, peaceful protest and creative communication to expose one of the world's largest and most significant ecological threats and pre imminent disasters, commonly known as Chemtrails or Climate Engineering."
Per a quote from BBBS activist Suzanne Maher, as quoted in the story, "This is extremely dangerous. This is genocide."
Suffice it to say, my predisposition to take photographs of chemtrail-riddled skies on occasion …
Read more at: phillyvoice.com
We will respect your inbox and privacy